We have many opportunities for you to connect.
The word 'real' describes all our gatherings. As you read about each one you'll understand why:
---
Real Sunday Worship
Real worship means total passion with zero hype, and humble excellence void of any show. It applies to our preaching too.
Our Sunday gathering is our main one:
• 10 am – 12 noon at Reef Hotel: A map is at the foot of our front page
• Dress code: None. Just be yourself!
• Worship: Modern songs. Starting lively, but getting intimate later. Intimacy is essential to us.
• Bread & Wine: We take it every week to focus on the cross.
• Sermon: An inspired teaching. We are careful to hear the Holy Spirit and use scripture as our foundation.
• Refreshments: Helps us get to know each other.
Real Jesus Kids
If we want our kids to have a genuine love for Jesus, they need heart formation, not a ton of things to memorize.
Our children leave for their class during the adult Sunday service, and join their parents for refreshments later.
• We believe in learning through fun.
• We have a team of 8 teachers, and if you are.
• interested we are always looking for more.
• We use a biblical teaching program from Vineyard UK.
Real Groups
Small group attendance is essential for building close friendships in a church. Its where we can be open and real.
We have 4 small groups:
• Shanzu Home Group
Contact Nelie on 0723 315588
• Mkomani Home Group
Contact Maxie on 0724 204671
• Bamburi Home Group
Contact Kate on 0708 120396
• Ladies Morning Bible Study
Contact Petronilla on 0753 360601
Real Socials
Real connection relies on sufficient social interaction. We have a number of social events through the year:
• Church picnics: Every few months at a place like Butterfly Pavilion (see photo).
• Movie Watch: Whenever there's a good movie at the Cinema. But we also do Christian movies at our church hall, with a discussion following.
• Church Camp: This is every December on the weekend closest to the 12th (public holiday). We usually hire a house near the beach on the North Coast.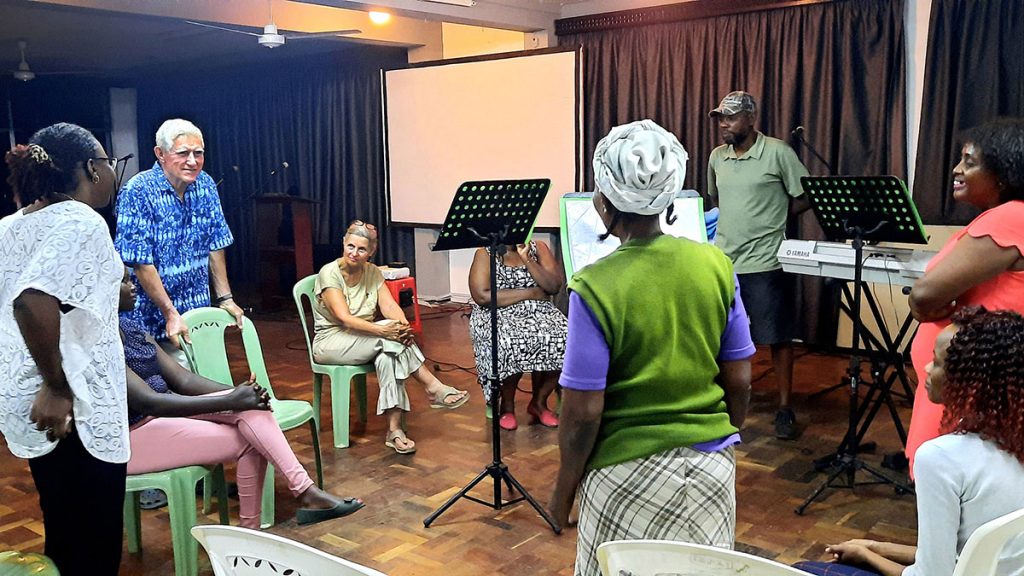 A Real Worship Circle
Its easier to connect with God in an informal, worship circle, where you can simply be yourself. It's also proved to be a great time to hear from God, share what He is saying, and intercede for our church. Everyone is welcome.
• At our church hall
• Wednesdays 7.00 pm – 8.30 pm
Real Youth
Generation Z (born 1995-2015) are tired of church being presented as a Christian stage show. They are after simple, real, heart felt devotion. This has shown in the recent Asbury Revival.
Our Gen Y and Z's meet regularly for lunch after the church service and do camps on the North Coast. Many of them play an important role in our worship team, and serve in other areas of the church.
Real Change
This happens when we receive Christ through real repentance. But repentance is only real when its a decisive and intentional choice before God, done from the very bottom of your heart. And then it has to be lived out and maintained through a lifestyle of repentance. Such a person walks in supernatural joy, and is a channel of heaven's life to all who encounter them.
Real You!
Real relationships happens when you are free to be yourself. We challenge our members to drop all religious pretense so we can know who they really are. Does that sound good? We like it. Give us a try.